Deflector shields on maximum!
Posted on July 10, 2014
As noted in previous posts – Our Sun is a double edged sword.  In Southern latitudes it is pretty rough on just about everything – especially poorly protected LCDs.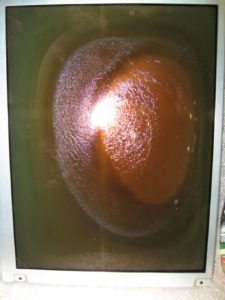 Click the photo for a larger image.
The photo shown above is a Sun damaged LCD. The polarization film has been destroyed from prolonged exposure to intense UV radiation. It almost looks like someone took a torch to it!
This LCD came from a Raymarine E-120, but we see the same thing in units from a wide variety of manufacturers. I'm sorry to report, we see a lot of this kind of damage from older Furuno units – even when their white plastic covers are in place when not in use.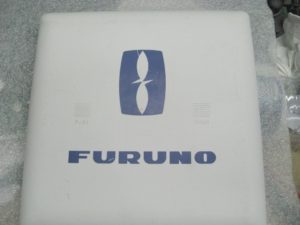 This is a cover for a Furuno FCV-582L. I am not a plastics expert by any means, but I've seen enough of these units coming in with sun damaged LCDs to know – it's not providing adequate protection. Somehow, the intense UV radiation common to anyplace withing 35 degrees of the equator – is blasting right through. I'm guessing it's something similar to getting a sunburn – even though you were wearing a white T- shirt.
My solution is crude, but doubtlessly effective. A "deflector shield"!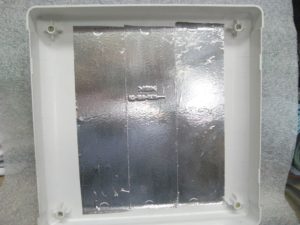 OK – so perhaps the name is a bit over the top – but you get the point. The photo shows 3 strips garden variety metal duct tape – placed carefully inside the FCV-582l's protective cover – in the area directly over the LCD. Naturally, light  CAN NOT  penetrate the metal foil, so the LCD should be well protected.
I'm recommending the installation of this foil tape to all of my Furuno customers. The added protection would probably would be a good idea for just about ANY product that has an LCD. Given the high cost of replacement – you'd be crazy not to.
You can get this tape at any hardware store or from an A/C guy.
Comments
No comments yet
The comments are closed.